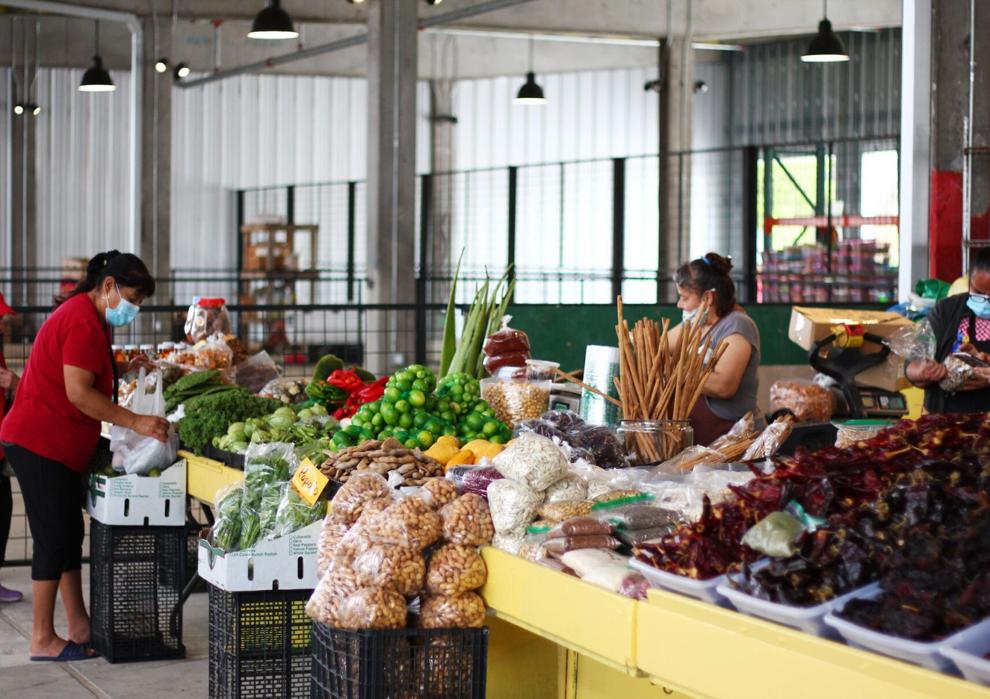 Richard Mason, vice president at MLB Capital Partners, said they have seen a big uptick in customers since the Houston Farmers Market at 2520 Airline Dr. opened new facilities at the beginning of April.
"Monday and Tuesday used to be pretty dead," Mason said. "The tenants would drive down to the (Rio Grande) Valley to get their produce. Now they have to hire drivers. It's busy seven days a week."
MLB Capital Partners purchased the 17.67-acre market in the east side of the Heights in May 2017 from The Farmers' Marketing Association of Houston Inc., which had owned and operated the market since its inception in 1942.
In the past three years, MLB upgraded the space with modern infrastructure including new climate-controlled spaces, shaded open-air market areas, restrooms and common seating areas. Additional upgrades to the property include more visible, organized parking, traffic circulation, defined sidewalks, site landscaping and almost an acre of dedicated green space.
In addition to the 75 percent of the original merchants who have stayed on – and were in temporary tents while construction was underway – there are some new, well-known faces.
Underbelly Hospitality's Chris Shepherd has opened two concepts – a fast casual concept and full-service restaurant, Wild Oats – and the market also includes a butcher shop by R-C Ranch Texas Craft Meats. MLB Capital Partners recently announced that Crawfish & Noodles will open its second location at the market this fall.
Crawfish & Noodles opened its original location in Houston's Asiatown in 2008. Owner Trong Nguyen is a James Beard Award finalist who pioneered the fusion of Cajun and Vietnamese cuisines.
"I have been coming to the Houston Farmers Market ever since I first moved to Houston 30 years ago," Nguyen said. "This is still the same market, just modernized. I'm excited to be a part of this project because open market concepts are exactly what Houston is about, community."
Mason said that although the market's Hispanic heritage is a huge part of its reputation, they also want their tenant mix to represent the city's diversity.
"We're open to anything that reflects Houston," he said.
He said they are looking for additional Asian, Italian and Mexican eateries.
Existing favorites include The Egg House, which will offer wholesale eggs and a retail component with an "Everything Breakfast" emphasis. Manzano's, Rivera's and HST Produce will continue their retail and wholesale operations from larger, more prominent facilities – and apothecary Los Cavazos offers a selection of local artisanal products.
Mason said he hopes the green space will become a hub for community educational events, like cooking classes, chef demonstrations, wine tastings and local entertainment.
While the final phase of the redevelopment is complete, Mason said they will continue to make tenant improvements and add a number of 400- to 800-square foot food kiosks, possibly featuring Mediterranean shawarma, coffee and West African cuisine.
While Mason knows change is sometimes hard, he said they have focused on maintaining the cultural aspects of the market while providing the open feel that other big city farmers markets have. The public bathrooms have been a popular addition.
"We wanted to enhance the visitor experience," Mason said.
The Houston Farmers Market is open daily from 5:30 a.m.-6 p.m. For more information, visit thehoustonfarmersmarket.com.