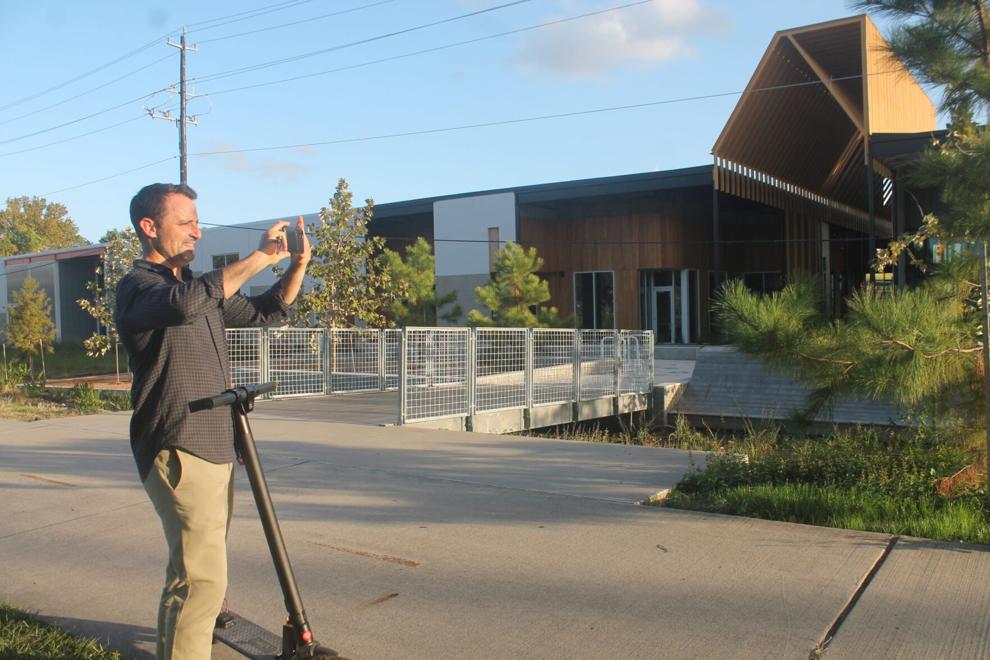 It's after 6 p.m. on a Tuesday, and only one business at a 12-acre retail and office complex is open. Most of the other spaces are vacant, and many are just a shell with furniture, decorations, products – and people – to come later.
Still, members of the Heights community venture onto the spacious property every few minutes. A couple rides through on their bikes, and young mothers pushing their babies in strollers turn off the adjacent trail, walk through an inviting archway and check out the modern-looking buildings separated by a mix of concrete paths and colorful, creative landscaping.
And Steve Radom smiles, because what he's witnessing is exactly what he and Scott Arnoldy envisioned when they came up with the idea for M-K-T two years ago. Their massive mixed-use development, which is a repurposed industrial warehouse complex at the northeast corner of North Shepherd Drive and 6th Street, was designed with cyclists and pedestrians in mind and meant to draw them in from the M-K-T/Heights Hike and Bike Trail immediately north of the property.
"It's so fun because, right now, there's still no real reason to come," Radom said. "But there are people on bikes, people who are exploring, pushing strollers. Seeing that is what gets me so excited."
The joint venture between Radom of Heights-based Radom Capital and Arnoldy of Triten Real Estate Partners started to come to life about a month ago, when core-and-shell construction was completed on the 200,000 square foot development, with half of that space reserved for offices and the other half earmarked for restaurants and retail. The first two tenants, women's clothing store June & Co. and photography studio Flower Vault, opened about two weeks ago.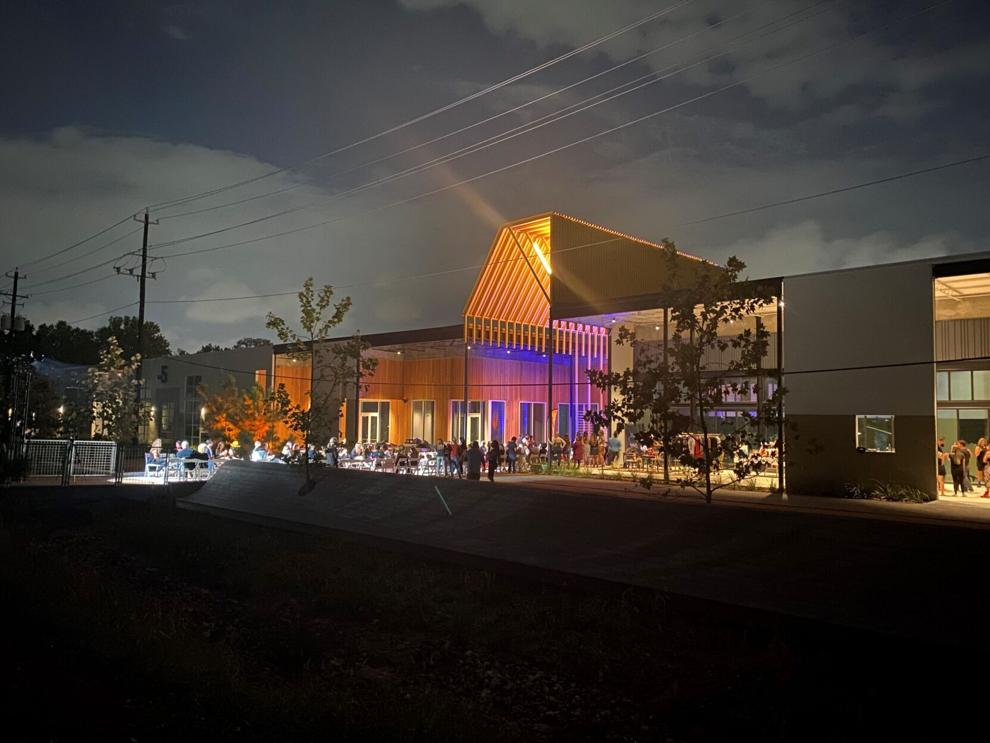 Many more businesses will open at M-K-T in the coming weeks and months as Radom said the development is about 60 percent leased, with the potential for it to be at least 80 percent leased by the end of the year. Arnoldy said the development will include seven restaurants and a wide range of retail and health-oriented businesses, from boutiques to fitness studios to juice bars to a dental office.
Among the businesses slated to open later this fall, according to Arnoldy, are boutiques Burdlife and Common Assembly, Union Studio Yoga and Pedego Electric Bikes.
Annie Patten, owner of June & Co., said she's already gotten some foot traffic and is looking forward to having more neighbors.
"It's going to be nice for some people just to walk over here and try different things," she said. "You don't have a lot of that in the Heights."
Boston-based Long Wharf Capital is an investment partner for Arnoldy and Radom, who enlisted the Michael Hsu Office of Architecture to design the project, Harvey Builders as the contractor and SWA Group Houston as the landscape architect. Along with being accessible to pedestrians, cyclists and those with mobility challenges, the development also is colorful, eclectic and striking in appearance.
Radom said works by Houston-based artists Franchesca Fuchs, Michael Rodriguez and Sebastien "Mr. D" Boileau will be featured on or near the property, with Rodriguez and Mr. D painting murals on the undersides of oblong archways near the front of the development.
Arnoldy said his favorite aspect of the project is its multi-colored lighting at night. The property's signature feature is a 42-foot tall, 120-foot long gold archway called the "spine," which serves as the entry point from the trail and will connect five upcoming restaurants.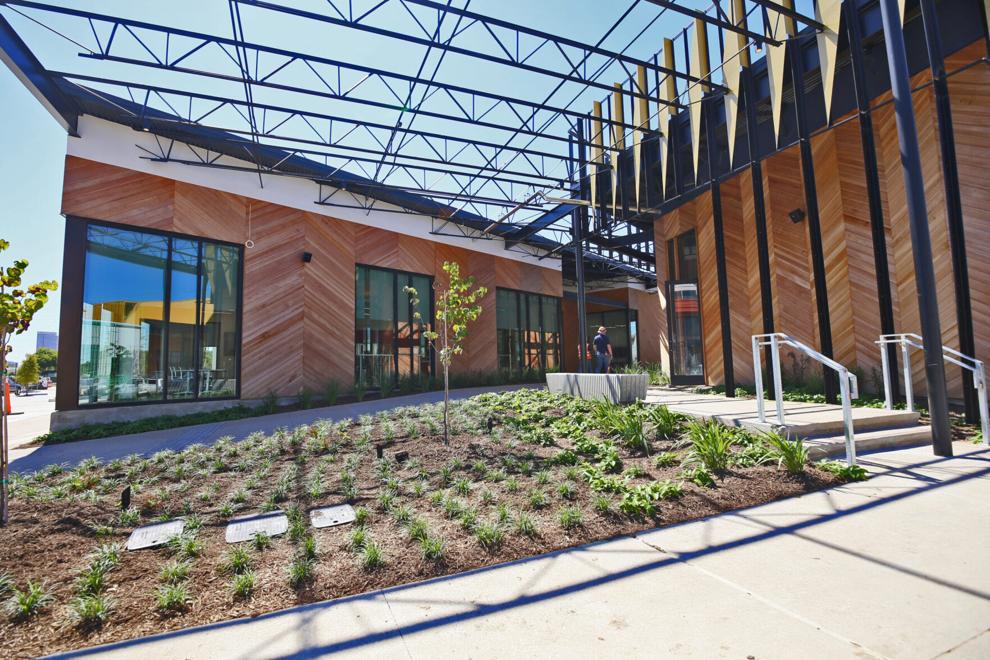 There also is an Airstream with adjacent wooden deck parked near the southeast corner of the property, which Radom said can serve as a unique conference room for nearby office tenants. He said it's stocked with a full bar, record player and television.
While cycling through the property, Heights resident Brittney Rhude said it's "really beautiful."
"A lot of times, renderings almost look better than the reality," Arnoldy said. "This is one project where the reality might outmatch the renderings."
The reality of the time is not lost on M-K-T, which Arnoldy said is "almost COVID-friendly." The developers did not envision going through a pandemic when they hatched the idea for the property, but they created a space conducive to fresh air and social distancing by incorporating open green spaces and patios.
Radom called it a "happy accident" that originated from a desire to give Houstonians what they want in a commercial environment of the 21st century. He visited M-K-T on Tuesday by riding an electric scooter along the hike-and-bike trail from his office at the Heights Mercantile at 714 Yale St.
"With no intention of COVID, because we planned this two years before, we wanted this to be a great destination," he said. "We really planned a lot of great green space and great patios and walkways. They're uncovered and they're open, full of light.
"To see this now and hear people appreciate it even more in the current environment, it just feels awesome. You wouldn't necessarily change anything today knowing what you know. It's not like you'd say, 'Man, if I would have thought about COVID, I would have done something completely different.' We would have done the exact same project."