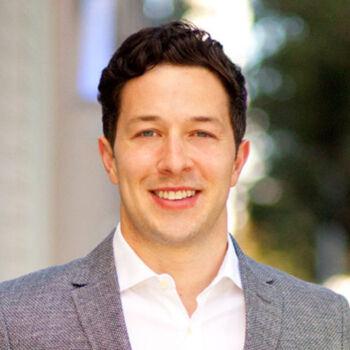 About 11 years ago, Michael Silva took a leap of faith into the real estate world at the suggestion of a friend. Now one of Houston Business Journal's top 5 agents in the city by volume and transactions, he's working every day to help Houston residents adjust to an ever-evolving world amidst COVID-19 the only way he knows how.
Silva is the founder of Happen Houston, a boutique real estate brand built on what he said is the belief that real estate service is strategic in nature and should provide a lifetime of value. He and his team take a data-driven approach to real estate, providing custom strategies and ongoing guidance for each of their clients.
"We're not in the business of sales – we take the position of trusted advisors, and we have a lot of clients who would attest to that," he said. "There are a lot of consumers who get connected with the wrong agent, and it's hard to tell them apart because of how flooded the business is."
Silva and his agency of about a dozen other agents primarily handle listings. However, he said they've dipped a toe in the water on working with buyers as well.
In a little more than a decade, he said Happen Houston has represented about 340 different buyers. This year, the company will represent about 250 sellers and 120 buyers.
"We're very familiar with both sides," he said.
Silva acknowledged, however, that 2020 has been far from typical on many fronts – not least of all because of the COVID-19 pandemic that has impacted the Houston region since March.
"Everything we knew about economic laws has pretty much gone out the window, so it's been interesting to observe how it's affected consumer confidence, priorities and behavior," he said. "The desire for real estate, homes and ownership has shifted."
In Happen Houston's primary markets – which include inner Beltway neighborhoods such as Garden Oaks, Oak Forest, the Heights, Shepherd Park Plaza and more – Silva said now more than ever, more consumers are changing homes and moving into the area. In turn, he said the need for a trusted advisor with accurate market knowledge is critical. And that's when Happen Houston enters the picture. Part of it, Silva said, is evolving how they conduct showings and tours, which stopped almost completely in March and April due to fear over the pandemic. While still conducting in-person tours since May – complete with masks, gloves, social distancing and hand sanitizer – he said the agency's method for transactions has evolved in a critical way – using technology.
"I think the silver lining this year is that people are in general becoming more human – technology was the thing, in a lot of ways, that was tearing us apart," he said. "Now it's the one thing that is bringing us closer and bringing more intimate interactions because there's a lack of distractions."
The tools have always been there, he said. They're simply coming into play more than ever.
"(Virtual transactions) was all about timing and strategy. We were already on top of the (technological) market before COVID, now we're just looking at things through a different and better lens," he said. "Our job is to really instill confidence in the client and inspire them to make the right moves and decisions, and we've taken that to another level this year. … We had a lot of tools already in the toolbox that we could use to make this transition easier."
As the country and their own local neighborhoods deal with a time that brings a plethora of uncertain scenarios, Silva said Happen Houston exists so that home buying and selling doesn't have to be one of them and to truly work for the betterment of the client.
"There's so much going on right now, and that's why it's important to be working with a trusted advisor that has accurate market knowledge to make sure you're making the right move. … Your client should really be looking to you for that red light, green light, or to maybe pump the brakes advice," he said. "One of the things you have to avoid is a 'yes man.' A trusted advisor speaks with a level of certainty that conveys experience and insight rather than arrogance and is not afraid to challenge the client so long as it's in the client's best interest."
On Happen Houston's website, there is little in the way of marketing or descriptions of what they do. In its place, there are dozens of testimonials from satisfied clients that Silva believes speak for themselves.
"You really went above and beyond to make sure we had a great experience and we can't thank you enough," clients Zoe and Tom said. "We will definitely be recommending you to all our friends who are looking to buy."
Added clients Brittany and Jared: "We obviously don't see the nitty gritty side of the business like you do daily, so it was nice to have never felt like we were under the gun or at war."
In Silva's mind, that's exactly how it should be – their work doing the legwork.
"The way (Happen Houston) expresses ourselves as an organization is through our clients," he said. "We really like our clients to do the talking."
To inquire about buying or listing a home with Silva and Happen Houston, email michael@happenhouston.com or give them a call at 713-725-8748. You can also visit happenhouston.com.