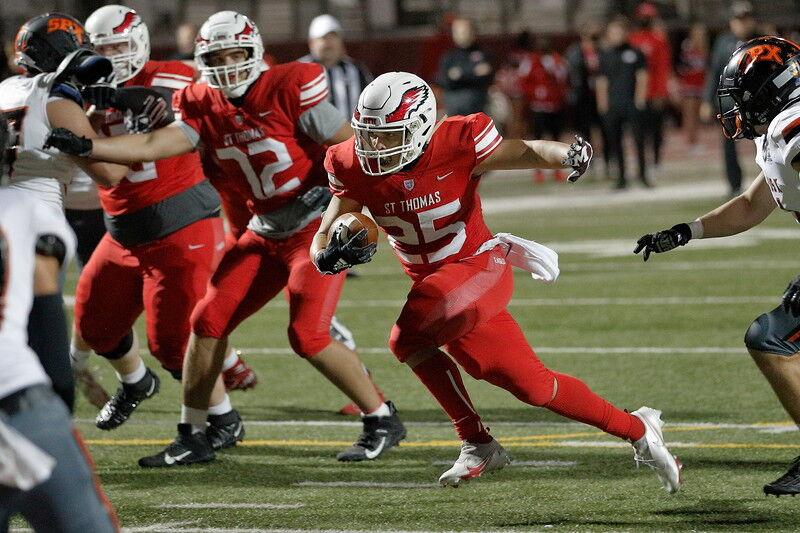 The old adage in sports is that a team always wants to be playing its best as the playoffs approach.
It appears the area's private-school football teams are doing just that as the regular season winds down, with all three emerging victorious in last week's action. Lutheran High North and St. Thomas both extended long winning streaks, while St. Pius X snapped a three-game skid.
All three area schools are postseason-bound as part of TAPPS' expanded playoff format.
Lutheran High North continued to roll with a 56-6 win over Prince of Peace last Friday, Nov. 6. It was the fifth consecutive win for the Lions (5-2, 4-0 district), marking the school's longest winning streak since a seven-game run in the 2009 season. Freshman quarterback Kamare Shorts led the way for LHN, throwing for 197 yards and a season-high four touchdowns without an interception. Four different receivers caught touchdown passes, while Demarcus Grant led the Lions with three catches for 61 yards.
Xavier Neal had 126 all-purpose yards, while the Lions defense forced four turnovers in one of its best performances of the season.
St. Thomas also continued its long winning streak, taking down Kelly Catholic 40-28 last Friday night. It was the sixth straight win for the Eagles (6-2, 5-0), who have now won 10 straight regular-season games dating back to last season.
Freshman tailback Johann Cardenas was the star of the night for the Eagles, who overcame an early 14-point deficit by scoring 26 unanswered points in the second half. Cardenas ran for four touchdowns and also caught one of quarterback Maddox Kopp's two scoring tosses. Kopp has now thrown at least two touchdowns in all seven on-field games this season.
St. Pius X snapped its losing streak last Friday night with a 48-6 win over San Antonio Christian. The Panthers (4-3, 3-3) rode career nights from Carson Rodgers and Logan Tanner as they jumped out to a 21-0, first-quarter lead and never looked back in their regular-season finale.
Rodgers threw for a career-high 396 yards and five touchdowns without an interception. On the receiving end of many of those completions was Tanner, who caught seven passes for 265 yards and four touchdowns. It was Tanner's fourth 100-yard receiving game of the season and the third time he has gone for multiple scores.
Nethaneel Loolo had 106 yards rushing to help the Panthers' attack, while Evan Narvaez nabbed his first interception of the season to aid the defensive effort.
In public school play, all area teams in action lost last week. Booker T. Washington lost to Yates 54-0, while Waltrip fell to Madison 48-0 and Scarborough forfeited its game against Furr. Heights had a bye and will return to action this weekend.
A rundown of last week's scores and this week's games involving area teams is below.
Last Week's Scores
Lutheran High North 56, Prince of Peace 6
St. Thomas 40, Kelly Catholic 28
St. Pius X 48, San Antonio Christian 6
Yates 54, Booker T. Washington 0
Madison 48, Waltrip 0
Furr def. Scarborough, by forfeit
This Week's Games
Thursday
Waltrip vs. Galena Park, 7 p.m. (Cowart Stadium)
Friday
Heights vs. Lamar, 7 p.m. (Barnett Stadium)
St. Thomas at Concordia Lutheran, 7 p.m.