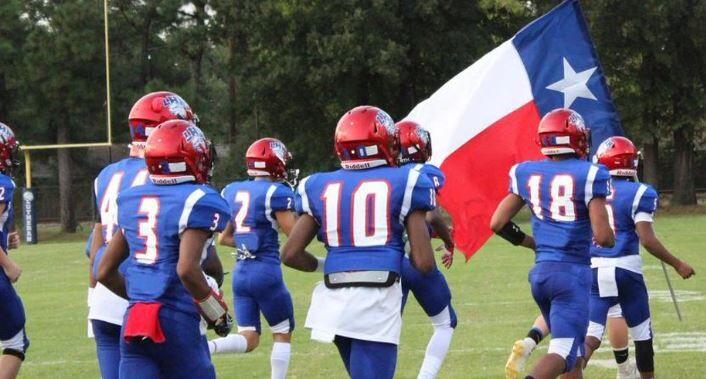 By Landan Kuhlmann
Lutheran High North football coach Shaun Stephens knew only one way to describe his team's mindset heading into its season opener Friday night.
"It's 100 percent excitement," he said. "They're champing at the bit to be able to play another team, and to play St. Pius X."
The Lions and Panthers, who were scheduled to face each other at 7 p.m. Friday in a delayed season opener, are not the only area private schools returning to game action this week. St. Thomas also was scheduled to play Friday night at El Campo.
Like many teams in the Houston region, all three schools have had their season delayed by more than a month due to the COVID-19 pandemic. So they're ready to get the pads popping.
"I would be silly to assume they're not excited about Friday night's game," new St. Pius X coach Greg Cranfill said beforehand. "But they understand we've got to do what we can to be prepared to win."
While some of what Cranfill speaks to involves on-field execution, it also involves myriad precautions teams must take to avoid spreading COVID-19. According to data from Harris County Public Health, the county and City of Houston has had 137,946 COVID-19 cases. At least 1,720 deaths have been caused by the disease, and 118,900 patients have recovered.
St. Thomas coach Rich McGuire said earlier this month that his players must wear face coverings and remain physically distanced on the sidelines when they are involved in a drill or play.
So, too, have players at St. Pius X, in addition to cleaning football and weightlifting equipment after use, according to Cranfill.
"We kept (safety) at a high priority since Day 1, so there haven't really been any changes – just a bunch of guys who are accustomed to doing it the way that we are," he said. "We've been in Code Red since the start knowing that the only people who can really screw (this season) up is us."
Stephens said his players at Lutheran High North also wore masks throughout summer workouts and do the same while not actively involved in a play during practice. Players must also undergo daily temperature checks before entering the locker room, and Stephens quipped about offering "unlimited hand washing" and hand sanitizer.
"We had to get on the kids to keep it consistent," he said. "We started doing pushups if they took their mask off too close to someone else. It became something we used to our advantage to keep the kids disciplined."
Ready to go
Some might think the players' enthusiasm would be tempered by COVID-19 and all the hoops to jump through to prevent its spread. But Cranfill and Stephens said it's had the opposite effect.
"The excitement level around here has been pretty extreme from the start. I don't see these guys dropping off and picking back up or swaying like a roller coaster," Cranfill said. "We've been pretty steady, because we know winning is a byproduct of doing things the right way, and they've bought into that."
Added Stephens: "We have some seniors that want the opportunity to play college football, and some younger guys where this could be big for them in recruiting. … I know that when they were thinking about not having football the kids were devastated."
The Lions are coming off of a 6-3 campaign and a first-round playoff loss in Stephens' first year at the helm, and have multiple weapons returning. Top receiver Xavier Neal (864 yards, 12 touchdowns) is back along with LHN's top two rushers in Zach Menefee (757 yards) and Jaaron Henderson (294 yards).
"Those three guys are going to be really special," Stephens said.
The Panthers, coming off a 2-9 finish in 2019, must replace starting quarterback Cameron McKeon along with their leading rusher and receiver from last year's squad. Also gone are leading tacklers Jagger Pagano and Ben Pierce. However, SPX returns second-leading receiver Ricky Thomas, Jr. (486 yards, 9 touchdowns) on offense as well as safety Hayden Payne (64 tackles) and linebacker Carson Hintz (53 tackles, 1 sack) on the other side.
"We decided we were going to focus on the things we did have, and not so much the things we didn't," Cranfill said. "Some of these kids will surprise you.
St. Thomas, meanwhile, is coming off a 9-4 season and TAPPS state semifinal berth led by University of Houston commit Maddox Kopp at quarterback. The Eagles also return Kopp's leading receiving target Cameron Bonner (1,255 yards, 12 touchdowns) and running back John Fontenot (1,035 total yards, 8 touchdowns) on offense. Senior defensive back Aidan O'Hare (5 interceptions) and senior linebacker Vincent Lee (113 tackles) lead the defense.
So after all the stoppages and delays, there is finally a light at the end of the tunnel. And Stephens could not be more excited.
"I keep trying to reiterate how blessed they are. When they first put the schedule out it was six games, then seven, then they bumped it up again. But shoot, we were happy for six," he said. "So we're definitely grateful to be able to go into this week and to be able to have a game."