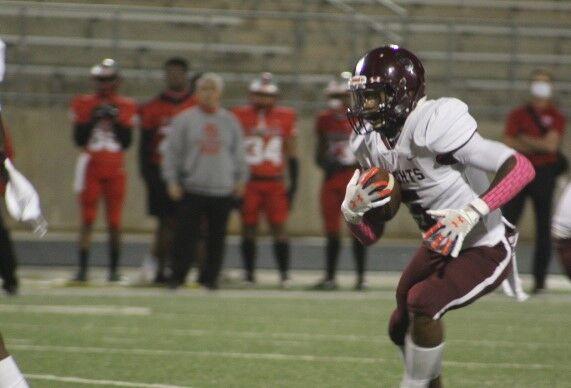 It was a banner 2020 season for the Heights High School football team, which won its first district title and first playoff game since 2013.
As a result, more than a dozen Bulldogs were recognized for their contributions with selections to the All-District 18-6A team. Headlined by quarterback Jalen Morrison, running back Kendric Rhymes and receiver Keyondrick Douglas, the Bulldogs had 12 first-team honorees and 19 total selections.
Rhymes (1,048 total yards, 18 TDs) was named the district most valuable player, while Morrison (1,806 total yards, 20 TDs) was named the offensive MVP as the signal caller for an offense that averaged nearly 41 points per game. Douglas (977 all-purpose yards, 6 TDs) was the district's special teams player of the year.
Bulldogs head coach Stephen Dixon was named the 18-6A coach of the year after guiding Heights to an unblemished record in district play.
The complete list of Heights' all-district selections is below:
FIRST TEAM
Keyondrick Douglas (WR)
Jonovan Foreman (LB)
Brian Mayes (DB)
Patrick McDowell (RB)
Jalen Morrison (QB)
Frank Moss Jr. (OL)
David Nico (LB)
Matthew Olugboji (OL)
Kendric Rhymes (RB)
Chris Smith (DB)
Billy Thursland (OL)
Karl Williams (LB)
SECOND TEAM
Darius Cleveland (DL)
Orlando Gonzalez (P)
Dylan Harris (LB)
Tadderick Mathis (OL)
Hugo Palacios (OL)
Zyan Primes (WR)
Jaden Wilson (DB)