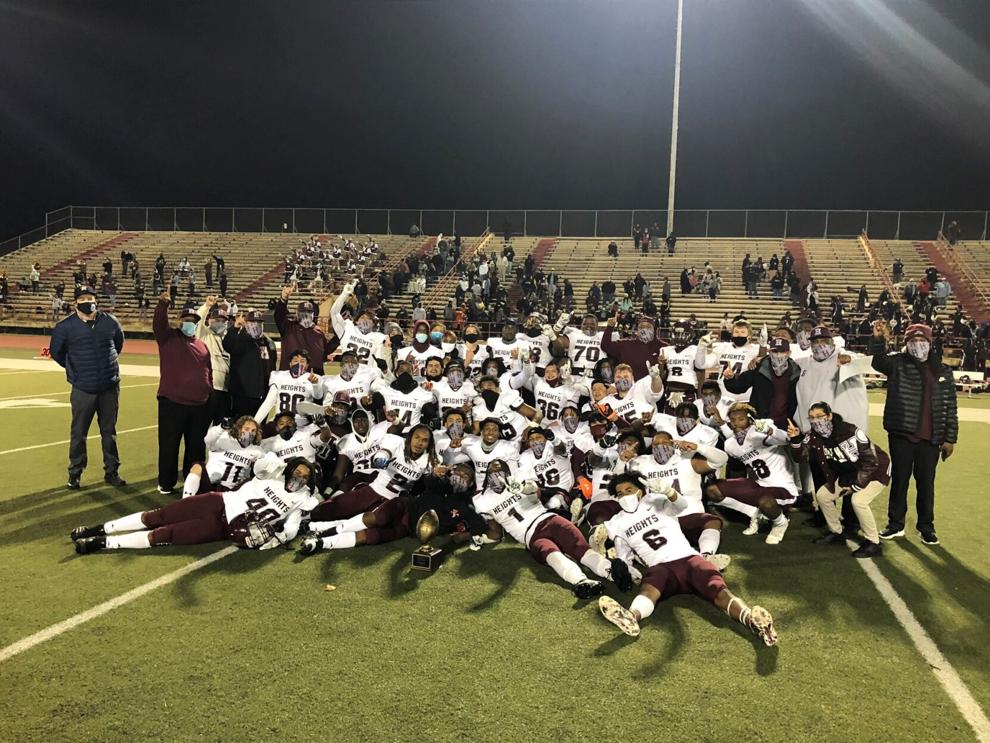 The Heights' Bulldogs had a football season like no other in 2020, but it will not end with them hoisting a state championship trophy.
Heights hung with the Katy Taylor Mustangs but lost 28-13 last Friday, Dec. 18 in a Class 6A Division II area-round playoff at Delmar Stadium. The Bulldogs finished the season with a 7-2 record, their winningest campaign since 2015 under head coach Stephen Dixon.
Junior quarterback Jalen Morrison threw for 189 yards in the loss. Senior running back Kendric Rhymes rushed for two touchdowns in his final high school game and added 67 yards receiving. Senior receiver Zyan Primes led the Bulldogs with six catches for 70 yards.
After the Mustangs jumped out to a 14-0 lead early, the Bulldogs turned an early second quarter fumble into points when Rhymes powered in from 7 yards out to cut it to 14-7. Then late in the quarter, Rhymes scooted in from 3 yards out to bring the Bulldogs to within 14-13 at halftime.
However, they were unable to break through Taylor's defense in a second-half defensive struggle. Despite the Bulldog defense holding strong in forcing three total turnovers and stuffing the Mustangs on the goal line early in the final quarter, Taylor was equal to the task as the Bulldogs succumbed to a couple of late rushing scores.
It was still a banner season for Heights, which was able to celebrate its first district championship since 2013 with a 6-0 record against District 18-6A competition. Another notable highlight included the Bulldogs' 22-21 overtime victory over Lamar, which snapped the Texans' 72-game district winning streak and catapulted Heights into the pole position in 18-6A.
"Not a good … but great season by my Bulldogs," Dixon said in a Saturday tweet. "Love my coaches and players and everyone who supported us."
Looking ahead to 2021, the Bulldogs will lose their two leading rushers in Rhymes (1,045 total yards, 18 touchdowns) and Patrick McDowell (532 rushing yards, five TDs) along with receivers Keyondrick Douglas (912 all-purpose yards, 6 TDs) and Primes. However, they will return their quarterback in Morrison (1,467 yards, 15 TDs passing).
On the defensive side, Heights will need to replace Darius Cleveland, who led the team with eight sacks. However, the Bulldogs will return their two leading tacklers in juniors Karl Williams (72 tackles, two interceptions) and David Nico (53 tackles, 1 sack).