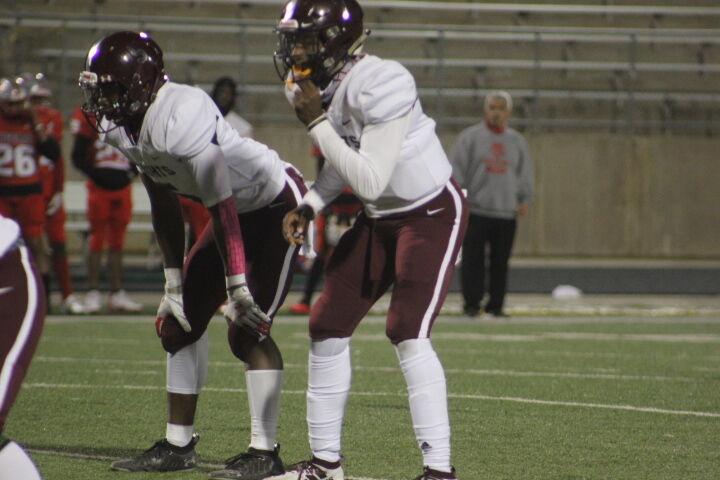 The Heights High School football team has been a perennial playoff contender under head coach Stephen Dixon. In recent years, however, a coveted district title has eluded the Bulldogs.
But after last week, they are one step closer to winning one.
Heights took down three-time defending District 18-6A champion Lamar 22-21 in overtime last Friday night at Barnett Stadium to move into sole possession of first place. The Bulldogs (4-1, 4-0 district) control their own destiny with three regular-season games to go as they are in search of their first district championship since moving to the state's largest classification (Class 6A) before the 2014 season.
It was tough sledding for both offenses for much of last week's game, with Heights able to muster just 274 yards against a stout Texans defense. But the Bulldogs came up with the big plays in crunch time to grind out the win.
Senior running back Patrick McDowell carried the offensive load for the Bulldogs with 133 yards and a touchdown rushing. Fellow tailback Kendric Rhymes, a Utah State commit, also was key. Rhymes gained 71 total yards, caught a touchdown pass and ran for another score along with running in the decisive two-point conversion in overtime.
Junior Karl Williams led Heights' defensive effort with 12 tackles, while Jaden Wilson and Sy Johnson each had interceptions.
Elsewhere in Houston ISD, Waltrip fell to 0-7 with a 49-0 loss to Galena Park.
On the private-school circuit, St. Thomas polished off its third straight undefeated district slate with a 48-17 win over Concordia Lutheran last Friday night. The Eagles (7-2, 6-0) will have a first-round bye in the TAPPS playoffs and await the winner between St. Pius X and Midland Christian on Nov. 27.
St. Pius X and Lutheran High North both had byes last week ahead of playoff games this weekend. The Panthers (4-3, 3-3) will travel to face Midland Christian at 1 p.m. Saturday in a Division I bout. At 4 p.m. that same day, Lutheran High North (5-2, 4-0) will play at Sacred Heart-Hallettsville for the right to face Rosehill Christian in the next round of the TAPPS Division IV playoffs.
A rundown of last week's scores and this week's games involving area teams is below.
Last Week's Scores
Heights 22, Lamar 21
St. Thomas 48, Concordia Lutheran 17
Galena Park 49, Waltrip 0
This Week's Games
Thursday
Heights at Houston Math, Science and Tech, 7 p.m. (Cowart Stadium)
Friday
Waltrip at Northside, 7 p.m. (Cowart Stadium)
Saturday
TAPPS Division I playoff: St. Pius X at Midland Christian, 1 p.m.
TAPPS Division IV playoff: Lutheran High North at Sacred Heart-Hallettsville, 4 p.m.