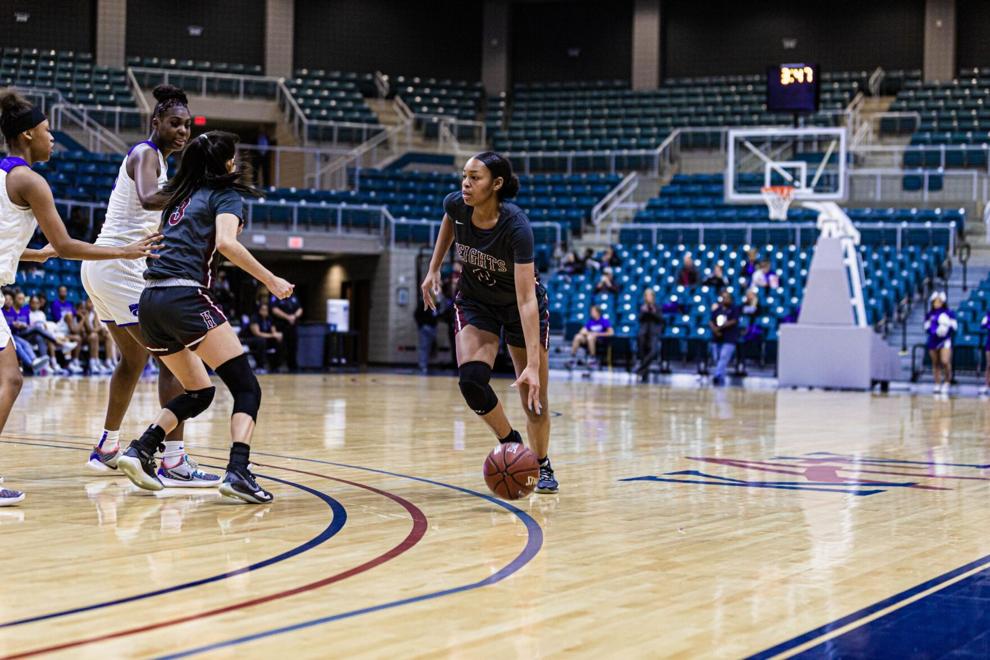 On the heels of strong starts to their 2020-21 seasons, two of the area's high school girls basketball teams have started the New Year off on the right foot.
The Heights Lady Bulldogs bounced back from a Dec. 29 loss to Cypress Creek, the Texas Association of Basketball Coaches' top-ranked team in Class 6A, with back-to-back wins over Katy Tompkins and Galena Park North Shore to maintain their standing as the 16th-ranked squad in 6A.
Leading the way once again were seniors Gracelynn Alvarez and Tierra Simon. Alvarez scored 16 points in a 50-49, comeback win over Tompkins – the TABC's No. 23 team in 6A – on New Year's Eve, while Simon had 18 points and 10 rebounds. The duo also combined for 30 points and 16 rebounds in a 61-55 victory over North Shore on Jan. 2.
Meanwhile, the Lutheran High North Lady Lions have continued their recent run of TAPPS dominance despite a Dec. 19 loss to Incarnate Word Academy. The Lady Lions improved to 10-2 on the season with a 79-28 win over Tomball Rosehill Christian Tuesday night, and are holding steady atop the TABC's TAPPS 3A rankings.
Sophomore guard Dalanna Carter has been a force so far this season for Lutheran High North, averaging nearly 34 points per contest. She has had nine games with at least 30 points and three games with at least 40 points, including a 43-point effort on Tuesday. She is also the team's second-leading rebounder at 5.6 per game.
Led by freshman Zachara Perkins at nearly 20 points and 11 rebounds per game, the St. Pius X Lady Panthers are off to a 6-4 start. They were scheduled to play Christian Homeschool Athletics on Tuesday night.
Booker T. Washington's Lady Eagles are trying to right the ship after losing four of their last five games to fall to 4-7. However, they were 3-1 in District 23-4A competition entering Wednesday's matchup against first-place Yates (5-4, 4-0 district).
The Scarborough Lady Spartans and Waltrip Lady Rams were both 0-3 ahead of games this week against Wheatley and Sharpstown, respectively.
Boys
Fresh off the gridiron, a couple of Heights' football stars are showcasing their multi-sport talents in helping the basketball team to a fast start. Keyondrick Douglas had 17 points and six rebounds in a 46-39 win over South Houston on Jan. 2. Kendric Rhymes added eight points and seven rebounds. The Bulldogs also took down Chavez 63-30 Tuesday night, improving to 6-2 overall and 2-0 in District 18-6A competition.
Despite 17 points from Kenneth Lewis and 16 from Kendrick Wyatt, Booker T. Washington lost 93-58 to Bellaire Episcopal – the TABC's 10th-ranked team in TAPPS 6A – on Dec. 31. However, the Eagles bounced back with a 77-67 win over Mickey Leland College Prep on Tuesday to improve to 7-8 overall and 4-2 in District 23-4A.
Waltrip has won back-to-back games over Scarborough and Houston Math, Science and Tech to square its record at 3-3. Scarborough is 0-6.
On the private school circuit, Lutheran High North is now 3-3 after Tuesday's 41-36 win against against Tomball Rosehill Christian, while St. Pius X is 7-6 following a Tuesday loss against top-ranked Houston Christian.
St. Thomas is coming off an 89-76 loss to Yates on Jan. 2 and is 2-3.