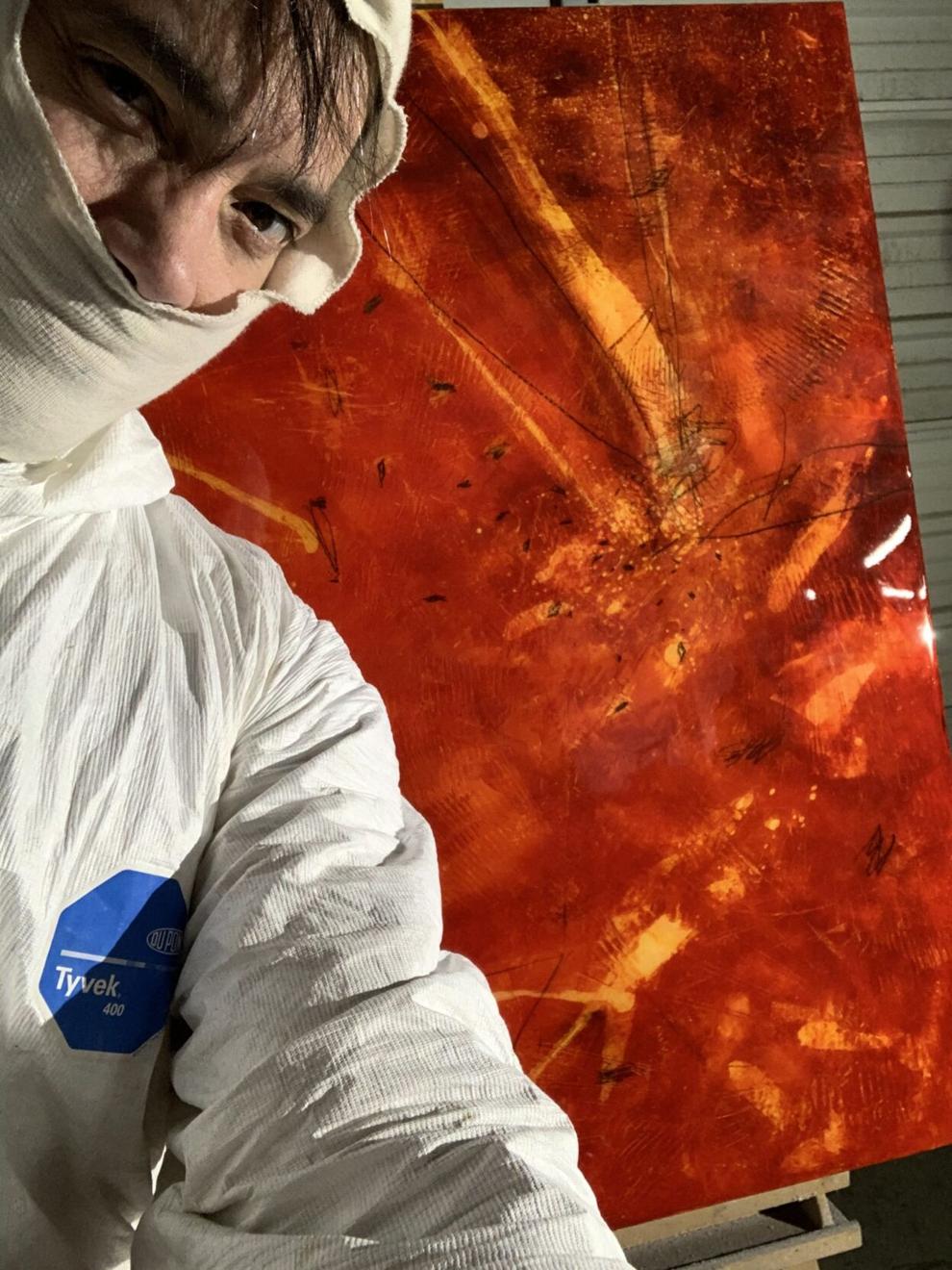 Gaston Carrio started painting in a small corner of a room, then moved to a bedroom, a garage and eventually a 2,500-square foot studio. With each move, his paintings increased in size.
Today, Carrio, a national award-winning painter, can easily accommodate your living room walls or walls of a two-story atrium in an office building.
On the portion of Carrio's studio that he designates for painting, I was struck by a massive abstract painting on gallery wrapped stretched canvas. I didn't ask for the measurements, but I'm fairly certain I could hide my pickup truck behind it.
Carrio goes by the moniker "Art by Architect" that doubles as the web address for his art (artbyarchitect.com). Carrio entered the art world after nearly 20 years of traveling and working as a professional architect.
Born and raised in Buenos Aires, Argentina, Carrio earned his Bachelor of Architecture degree at the Universidad de Belgrano. His work took him around the world from Indiana to China, Korea, Dubai and Los Angeles.
In 2006, Carrio transitioned from creating digital artwork using architectural 3D software to mixed media painting almost overnight.
Carrio yearned for creative control of his work, and he found it in painting. In 2012, Carrio moved to Houston where he ended his architecture career and pursued his vision as a full-time artist.
He has not looked back. Carrio said he averages exhibiting at 16 art festivals annually, picking up awards and recognition for his work along the way. His first festival was at Houston's Bayou City Art Festival, and about the same time, he exhibited at First Saturday Arts Market.
The year 2018 was a big one for Carrio, who became a U.S. citizen and won The Woodlands Art Council competition to design and build two permanent "Art Benches" installations for the city of The Woodlands.
In June of this year, Carrio won The Woodlands Arts Council competition to design and build a third permanent art bench.
Looking around at these projects in his studio, understand that these benches are massive. Carrio tells me it's these challenges that move him forward. I asked when he first started thinking about transitioning into 3D sculpture.
"When I moved into this 2,500 square foot studio (in 2016) I saw the potential to use the space and to combine my architectural design background with my experience showing/exhibiting my 2D art at festivals," Carrio said. "But I had to start somewhere, so I started to take courses on metal shaping.
"(The year) 2017 is when I started training on the use of CNC plasma and router at TX/RX based in Houston," Carrio continued. "I knew my steps for constructibility since I have been exposed to methodologies and processes during my architectural career. But I was never hands on anything."
While still studying, he began to enter competitions like The Woodlands Art Bench Project. He envisioned creating his own challenges in case he did win.
"Which happened in 2018 with the bench 'Proud Souls,'" Carrio said. "Every step keeps building the necessary confidence to overcome challenges and gain momentum to create all new ones, at higher levels."
Carrio lamented how even as one of the main designers at a firm in Atlanta, he never got his hands "dirty."
"Now, by reaching competitions like The Woodlands, I am seeing a great opportunity to explore and get hands on it," Carrio said.
Scaling up is no problem. Carrio understands the process of design, necessary machinery and construction. Keep an eye on him. Failure is not even a thought for this artist.
Note: The First Saturday Arts Market will not be held this weekend because of the Fourth of July holiday.
Cohen is an artist and founder of the First Saturday Arts Market and the Market at Sawyer Yards. Find him at ArtValet.com for additional highlights and artist's stories.