This weekend, Hardy & Nance Studios present "Solitude in Bloom," a collection of sculptures and paintings by resident artists Peter Healy and Matt Messinger.
The showing is over three days to observe COVID-19 protocols. The Friday preview is from 6-9 p.m., followed by showings from 5-10 p.m. Saturday and 1-4 p.m. Sunday, all in the gallery space inside Hardy & Nance Studios, 902 Hardy St.
Staring at a blank computer screen, with a print deadline hovering over me, my head feeling like a stuffed melon from the first onset of allergies in a long while, I decided to turn to Facebook events to see what I could write about this week. Messinger's name stood out immediately.
No apologies for my methods of discovery this week, because these two artists are phenomenal and if I hadn't lost my allergy battle to the oak trees, I may have missed this. So, you are welcome!
I recall seeing Messinger's work for many years at Antidote Coffee at 729 Studewood St. Messinger and I have many mutual friends, and when I found this event, I realized I haven't seen him in a while either. The irony here is in the name of the show.
Messinger and Healy share studio space at Hardy & Nance, and they are neighbors and brothers-in-law. How wild is that? Healy's wife, Sara, wrote their combined statement for the exhibit.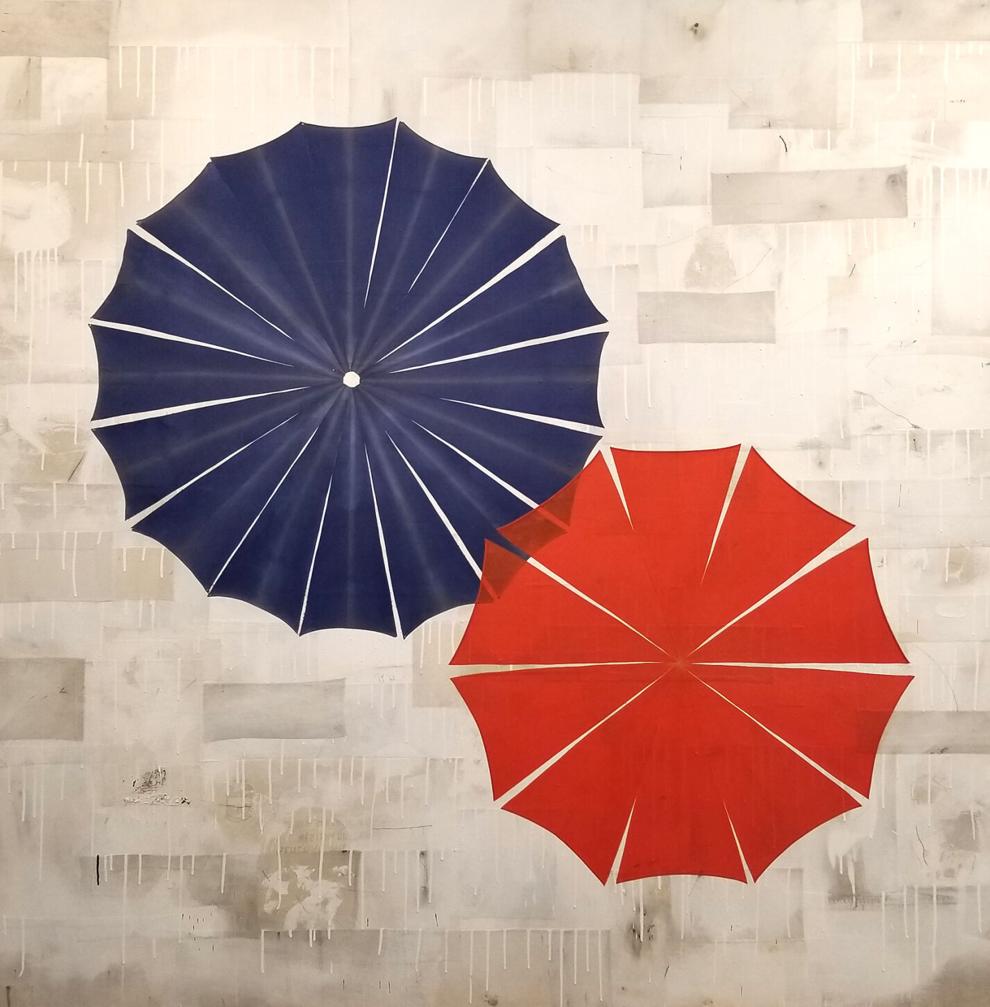 "The pandemic really changed the way everyone lived, seemingly overnight," she wrote. "We found ourselves less connected to the art world and the world at large, turning inward to our families and our lives at home.
"A lot of what you see in our pieces speaks to what we were seeking for ourselves during this time; escape, joy, levity, a respite from the dramatic situation unfolding around the world."
Like many artists, Messinger and Peter Healy had to find new ways to stay connected to their audience.
"We had to figure out, as many have, how to adjust and think differently about how to exist as an artist and create work that resonates with others while being physically disconnected from almost everyone," Sara Healy wrote.
Like the rest of us, they're excited to finally move on but still find the positive side to solitude in their work.
"Having fewer distractions or obligations provided the opportunity to focus more on the work and where each of us wanted to take it," the two artists said. "We were lucky in that we not only share workspace, but we're neighbors, too, so we could gather as a family and drag our canvases outside and tack them up on the fence or wherever, working through projects and talking about our next moves while planting gardens and trying new beers and other such pandemic cliches.
"Now, after what's seemed like the longest and shortest year, it's spring again, and after postponing a handful of times, we are excited to be showing soon."
Follow both artists on Instagram (@mattmessinger9 and @peterhealypaintings) as well as the studios (@hardyandnancestudios).
Cohen is an artist and founder of the First Saturday Arts Market and the Market at Sawyer Yards. Find him at ArtValet.com for additional highlights and artist's stories.