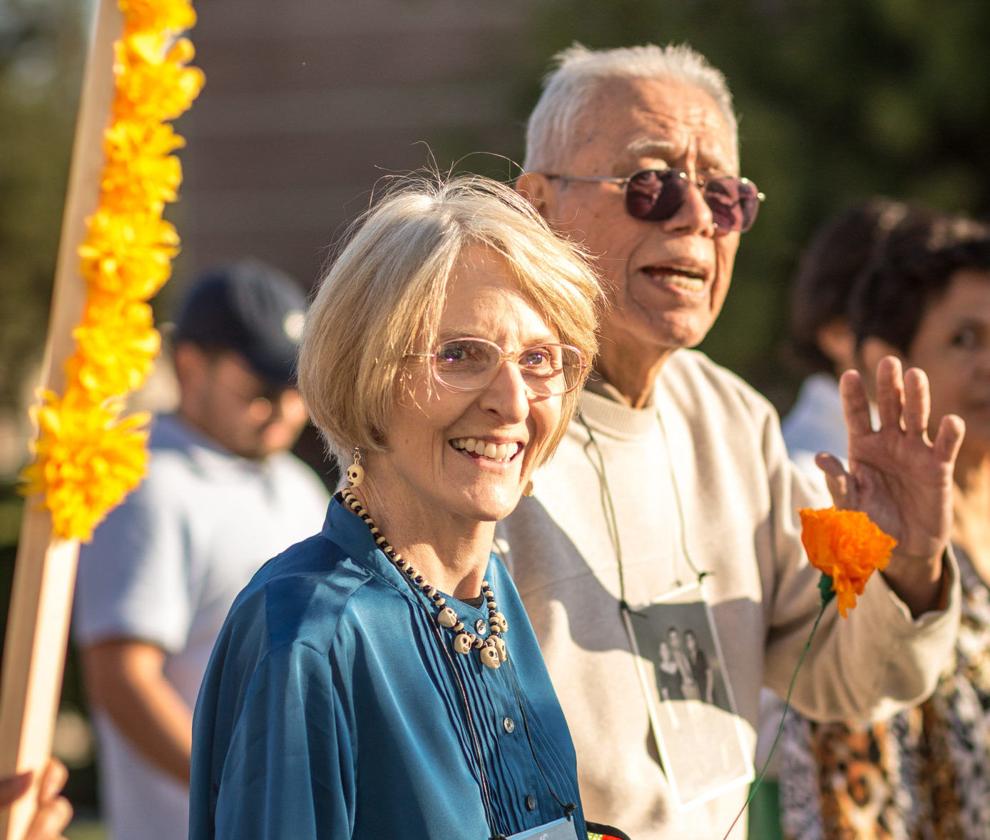 Macario Ramirez, who owned and ran Casa Ramirez Folkart Gallery at 241 W. 19th St., with his wife, Chrissie Dickerson Ramirez, passed away June 10.
A well-written obituary by Charlotte Aguilar for The Leader was published June 12 and can be read online at theleadernews.com. I encourage you to read it if you haven't already.
Mr. Ramirez had a huge positive influence on the Hispanic arts community through his support and mentorship. Casa Ramirez Folkart Gallery has always featured artists from around the world, but many of course, are from right here in Houston.
"That man was bigger than life. I could write a novel about him," Sergio Santos, an artist and photographer now living in Bedford, told me last week.
Santos' statement echoes my thoughts. Ramirez gave many artists the things most sought after to succeed: opportunity, encouragement and mentorship.
I invited Santos and Houston artist Lizbeth Ortiz to contribute their thoughts on Ramirez for Art Valet.
"There is a multitude of characteristics that made Señor Ramirez special," Santos said. "The most powerful to me, however, is that in his Dia de los Muertos teachings, he invited people of all different backgrounds, races, and walks of life to celebrate their ancestral past. His teachings were provided to the community at no charge and created a bond with a diversity of people that is beautiful, and impressionable.
"He was/is a symbol of pride to many Latinos in the community, but through his benevolent spirit, and genuine love of all people – he was so much more than that," Santos continued. "It is that legacy that will be most sorely missed but certainly lives on in any of us that were fortunate enough to take any amount of time to learn from Señor Ramirez's life example."
Follow Santos online at http://elsantosworld.com.
Ortiz is an established artist, arts promoter and event organizer. She was born in Mexico City, raised in Houston and thrust into adulthood in New York City. She says all that influenced her work.
"Macario was a larger-than-life mentor, activist and friend," Ortiz said. "I first met him at Casa Ramirez while I attended the High School for Performing and Visual Arts. Both him and Chrissie, his wife, welcomed me and my friends and sold some of our art at Casa Ramirez.
"When I returned to Houston after living 10 years in NYC, one of my first markets was the First Saturday Arts Market in the Heights and Macario and Chrissie came by and it was like reconnecting with family," Ortiz added. "From that day on I adopted Macario as my mentor and both him and Chrissie became part of my family. He used to go to the same gym my dad attended and they would spend hours talking about family and life.
"Every time I needed a pick-me-up I would stop by and both his conversations and beautiful displays were instant food for the soul," Ortiz continued. "He always asked me how 'la familia' (the family) was doing, and every conversation ended with, 'Love you, proud of you.'
"The legacy he leaves behind is a testament of all the hearts he touched and the new generations he taught to be proud of their culture and to preserve it. Macario will be deeply missed and we will remember him every time we celebrate our traditions and share them with others. Love you, Macario, proud of you, rest in power."
Follow Ortiz online at https://www.lizbethortiz.com.
Recently, Chrissie Ramirez wrote on the Casa Ramirez Facebook page that the store has reopened. A visitor's book is available in which to share a thought or memory. The hours at Casa Ramirez are 10 a.m.-4 p.m. Tuesday-Saturday and noon-4 p.m. Sunday. Visit casaramirez.com for more information.
On my blog, I share some of my thoughts and memories.
Cohen is an artist and founder of the First Saturday Arts Market and the Market at Sawyer Yards. Find him at ArtValet.com for additional highlights and artist's stories.