Need an art gift? A portrait of your favorite pet, relative or memory?
Great news. The artists at Hardy & Nance Studios have come up with a creative and economical way to do just that. "Press Your Luck: Quick Draw Edition" is a virtual way to get a portrait done by one of the participating artists at Hardy & Nance Studios. The online event began July 13 and continues through noon this Sunday, July 19.
This is how it works. You submit a simple online form with the image you want to be turned into art (drawing, painting or sculpture), pay a minimum of $25 and then one of the 27 studio artists is selected at random to create your art. You will receive the results within 48-72 hours.
Hardy & Nance Studios is a unique community of artists in Houston's art studio scene, situated in Houston's historic downtown Art Warehouse District. The studio has not had any public gatherings since COVID-19 entered our lives. Quick Draw is a fun, interactive way to engage the community.
I gleaned the following from the event invitation.
"Our building has been closed to the public for the past few months – which has greatly impacted the business of our artists," the statement reads. "We realize that everyone is struggling to make ends meet with the current state of affairs, and we thought this would be a fun thing to do for our community. Not everyone can afford to invest big dollars in art right now, but for those who have a few bucks to spare and want to have fun and support our artists – who are also trying not to lose their minds and would enjoy the opportunity to create for the community – we thought this event would be fun."
A few more details:
"We will randomly assign your image/job to one of the 27 participating, in-house artists to render. They may choose to draw, paint, sculpt, digitally render, etc., your image. You will then receive an electronic copy of the completed artwork. Hands free!"
Credit was given to the nonprofit Friends For Life Houston, an animal (un)shelter located in the Heights that held an Awkward Pet Portrait event one day in early June.
I don't know how they select artists at Hardy & Nance Studios. I will just say that some of Houston's best artists can be found there. In addition to just being a fun idea, this is an amazing opportunity for burgeoning collectors. (Don't tell them I said this. Oh shoot, this is a newspaper! Fine, I said it.)
Hardy & Nance Studios is using $5 from the proceeds to help with improvement projects, and the artists keep the rest. Artist Claire Richards, who also has the role of studio management, told me they hope to reopen the studios to the public for three days per week beginning in August. Stay informed via the website, hardyandnancestudios.com.
Remember, the clock is ticking. You have until noon Sunday to submit your images! You can find this link on Facebook and the studio website, too: https://form.jotform.com/HardyandNanceStudios/PressYourLuck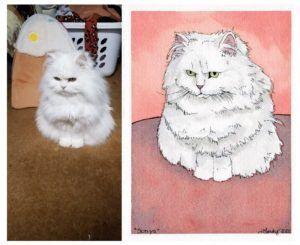 Cohen is an artist and founder of the First Saturday Arts Market and the Market at Sawyer Yards. Find him at ArtValet.com for additional highlights and artist's stories.