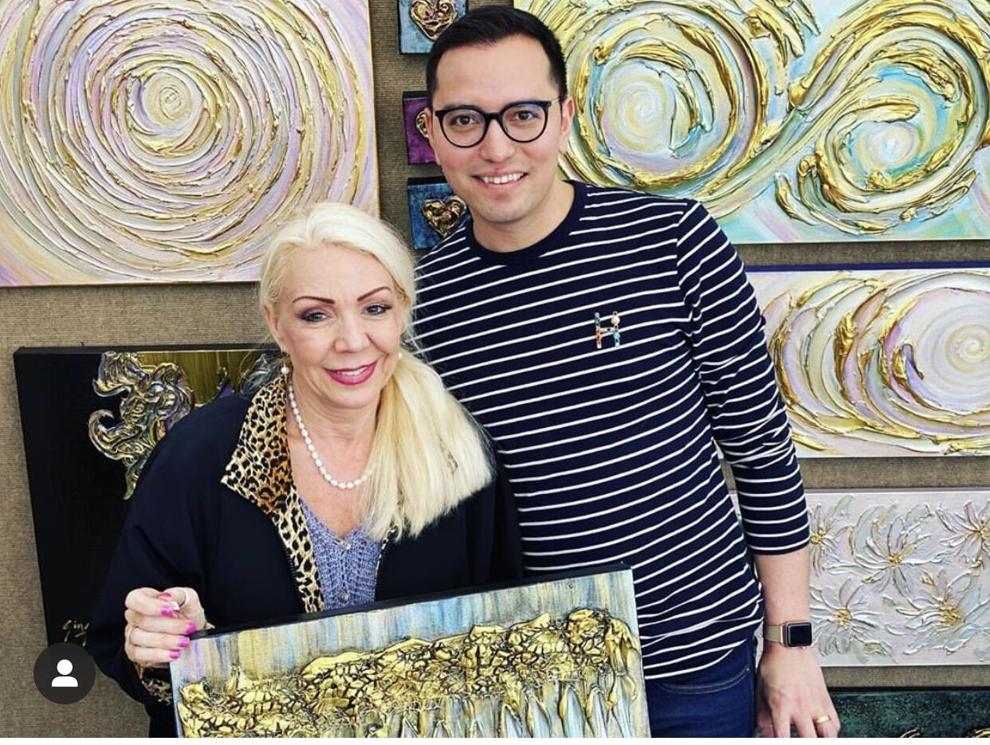 Some artists create paintings that grab you, lure you in for a closer look and cause you to think and ponder.
Ginger Annette, a Houston artist, creates paintings that may appear to come to you. The swirls of texture mixed with metallic colors almost look like icing on a cake upon close examination and may invoke viewers to reach over and ask, "May I touch?"
Actually, Annette tells me that children ask her permission before touching her highly sculptural paintings. Adults? Not so much. Annette encourages customers to touch her paintings, which is certainly not the norm for most artists.
Annette's attitude is as bright and colorful as her paintings of flowers, hearts and other subjects, almost all as vibrant. A familiar candy bowl in her booth at the festivals and markets where Annette displays and sells her paintings get an equal amount of attention. Again, the children ask while the adults sneak.
Annette calls herself a mixed media artist, using acrylics, oils, paste and many other unique items.
"Sometimes it's whatever I can find to add a texture or a specific color to an original piece," Annette said.
Her style and attitude didn't exactly start out as bright and cheerful as she is now. She told me that dark beginnings led her into the world of art.
"The reason I got into art as a young child was the household where I lived was pretty abusive," Annette said. "I'd slip away to the library and spend hours upon hours looking at art books and trying to figure out a way to paint like the great masters, thinking that was my only way out."
At age 14, she was airbrushing images on vans and creating murals. In college, while majoring in psychology, Annette worked her way through school spending hours creating masterpieces and selling them.
She continued painting on her own, never taking any art classes.
"Trying to escape an abusive situation and then being told by a total stranger, an arrogant college professor, 'That thing, that creation, that masterpiece you just spent hours upon hours creating isn't worthy of anything,' … made me realize they were the ones who were damaged, not me," Annette said. "I am good enough. … I am better. … I won't be pushed down or to the side. … I am enough. … and I will continue to be.
"I sold everything, attended every local art venue and scoured every museum," she continued. "I was looking for what I could become, and one day I decided. I was good enough and my art resembles that."
Today, Annette is a regular exhibitor at First Saturday Arts Market, which will next be held from 11 a.m.-6 p.m. this Saturday, Sept. 5 at 530 W. 19th St. in the Heights.
"It is by far my favorite place to sell art," Annette said of First Saturday Arts Market. "It's a family of artist friends and we work together to put on the best show possible. I love the laid-back atmosphere and the happy customers. It makes for a great weekend!"
Find Annette at The Market at Sawyer Yards, too, on the second Saturday of each month and at the annual Friendswood Art in the Park. Her art can be found at Gingerannette.com.
Cohen is an artist and founder of the First Saturday Arts Market and the Market at Sawyer Yards. Find him at ArtValet.com for additional highlights and artist's stories.