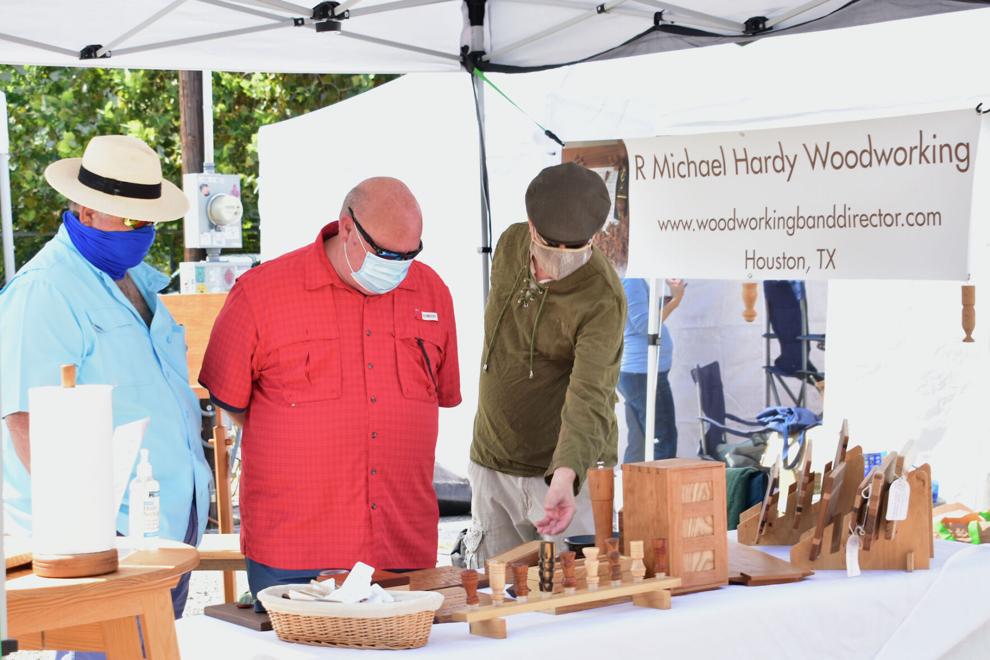 First Saturday Arts Market is back this Saturday from 11 a.m.-6 p.m. at 530 W. 19th St. with the biggest roster of artists since the March anniversary.
Among the three dozen exhibitors is a woodworker who refers to himself as the woodworking band director, R. Michael Hardy. He creates furniture, unique gift items out of wood and, not surprisingly, specializes in music furniture.
Hardy's quips have lightened my outlook on the sometimes arduous task of juggling multiple personalities at the same time. Between saving my sanity and his talent for creating copious amounts of sawdust, an interview was in order.
Hardy grew up in Orange and Victoria and now lives in Houston, where he retired after 30 years as a high school band director. In addition to the musical background, Hardy also has had a lifelong involvement in the visual arts. Over the last dozen years, that visual arts background has manifested itself in woodworking.
Art Valet: What's your background in woodworking?
Hardy: "I do not have any formal woodworking training, however, the knowledge gained through the internet and magazines keeps me from considering myself 'self-taught.' "
AV: Do you still work?
Hardy: "I am retired, and still do clinics with local schools with woodworking becoming a part-time business. While I do not rely on woodworking to pay my bills, my business has grown to where it sustains itself and brings in a little extra."
Hardy began exhibiting his work in the spring of 2017 with a music education convention and began showing at the First Saturday Arts Market that May.
AV: What is your art about?
Hardy: "I consider myself a fine woodworker. I build furniture and other smaller items with a specialty area of music-related pieces. My music stands and conductor podiums are unique and are in homes and concert halls throughout the country. My style is clean and uncluttered, which allows the wood to be the star. You will see influences of arts and crafts, contemporary Asian, shaker and Scandinavian furniture in my work. Each piece is handcrafted by me and therefore unique."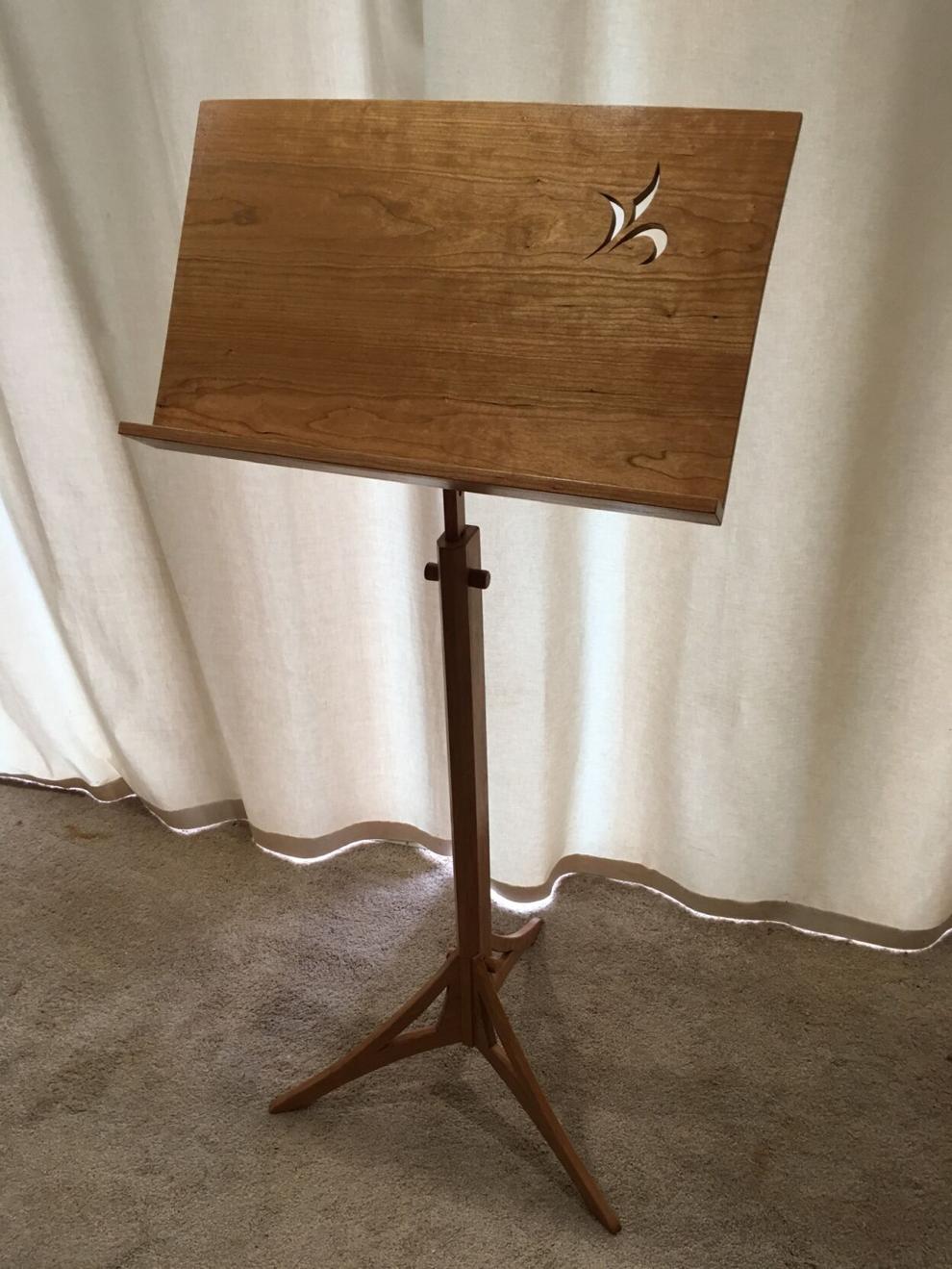 Hardy took some art lessons in his elementary school days, but I asked to elaborate on his connection to the visual arts.
"I was always drawing and coloring," Hardy said. "I can still remember when it occurred to me, "What if I colored between the lines?" I even remember the picture. It was in a Tom and Jerry coloring book and the mice were lifting an electric razor.
"Even as my focus shifted to music in the sixth grade, the visual arts continued to be important to me," Hardy continued. "I also believe that my musicality, which has always been touted as a notable strength of my playing and conducting, is in part due to the fact that I 'see' music. I hear and see musical line, motion, color and texture. I think these factors also show up in my woodworking designs. Line, texture, balance, motion, etc., have to work together with structure and functionality."
When I asked what would surprise his audience, Hardy was quite humble but finally opened up. Amazing!
"I have performed with Bob Hope, Jerry Van Dyke, The Fifth Dimension, Florence Henderson and a few others I am forgetting," he said. "I also played the English horn solo accompanying Angel Romero (Spanish guitar great) on Rodrigo's 'Concierto de Aranjuez,' and have performed the saxophone solo from Mussorgsky's 'Pictures at an Exhibition' (there is another visual art connection…) and the soprano saxophone solo from Ravel's 'Bolero' with multiple orchestras."
Meet Hardy in person at First Saturday Arts Market and find him on the web at https://www.woodworkingbanddirector.com.
Cohen is an artist and founder of the First Saturday Arts Market and the Market at Sawyer Yards. Find him at ArtValet.com for additional highlights and artist's stories.