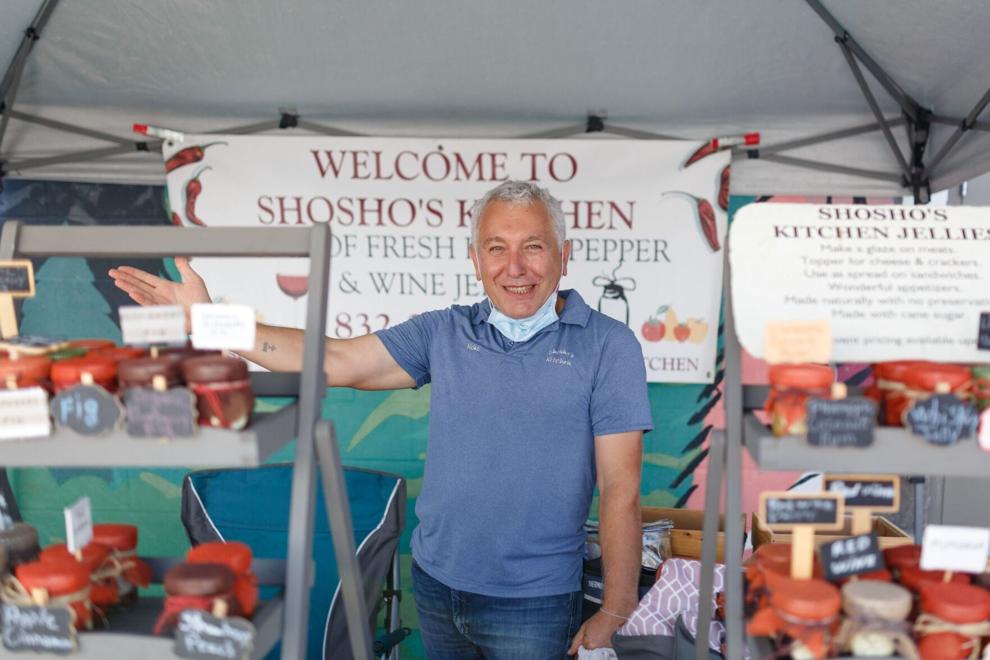 The Market at Sawyer Yards is happening from 11 a.m.-5 p.m. this Saturday, Jan. 9, at 1502 Sawyer St.
For the first week of January, I always hear about diets, abstinence, exercising, etc. That's wonderful, do your thing. However, I need to let you in on a little secret, the State of Texas allows cottage food makers to sell their wares everywhere.
If you haven't been to any of the outdoor markets lately, first, where have you been? Second, get out there, outdoor shopping is all the rage. It's safer, Houston weather is generally amazing this time of year, and since you're walking around getting all that exercise anyway, you can take home some treats! Or eat them before getting home, that's your choice.
In Texas, it's legal to have a home food business. In 2019 the Texas Cottage Food Laws were revised, allowing home food businesses to sell at for-profit venues. Until then, they were limited to nonprofit farmer's markets, church bazaars, etc.
Basically, you can make and sell any food except meat, that does not require time or temperature control to prevent spoilage.
You want a list, I can tell. A short list of what you can make at home includes baked goods, candy, coated nuts, nut and fruit butters, jellies and jams, popcorn, mustard, pickled vegetables and fruit and the list goes on and on.
There are limits and rules, of course, but basically, if you're just a small operation, you can probably make it and sell it a local market.
In late 2019 and early 2020, I had just started looking into the new cottage laws because of the recent increase in requests to join my Market at Sawyer Yards. Today, many people are looking for ways to replace or supplement their incomes, and home-based food business is a low-cost startup.
The Market at Sawyer Yards takes place on the second Saturday of each month and being surrounded by fine art studios, this market focuses on artisan crafts, folk art and food. It's exciting to expand the current food offerings to the cottage makers.
Now in addition to the coffee roasters, freshly sourced teas, salsas and prepared foods such as Indian food, we can welcome the cottage food makers.
On Saturday, for example, ShoSho's Kitchen, Yum Creole Seasoning, Migaloo Chocolatier and Diablo Huma Alfajor will be at the market, all cottage food makers.
ShoSho's Kitchen, owned by Shoghig and Coco Kasparian, specializes in jellies and jams, freshly baked brioche and cinnamon-roasted pecans.
Yum Creole Seasoning makes dry rubs and hot sauces utilizing local ingredients and prepares new batches weekly.
Migaloo means "spirit-soul" in the Australian aboriginal culture. Migaloo Chocolatier was created in memory of the beloved late husband of one of the co-founders. Pass on those store-brand chocolates. Homemade is best and Migaloo is mouthwateringly good.
Alfajores are tender sandwich cookies filled with a layer of dulce de leche. They are a popular cookie found in many Latin American countries and now Diablo Huma Alfajor bakes and sells them in Houston. They are small and look like a coated, roundish cake, but they are delectable!
Hungry yet? Good! Vist the market Saturday. The food vendors set up alongside the artisans. Cafeza and Arts District Houston's Music Series continues Saturday with the Will Van Horn Trio.
More information about Texas Cottage Food Laws can be found at TexasCottageFoodLaw.com. The website is owned and maintained by Kelley Masters, a private citizen and home baker who was responsible for the filing of the first Texas Cottage Food Bill in 2009 by State Rep. Dan Gattis. I borrowed liberally from this site before discovering the ownership. Impressive!
Cohen is an artist and founder of the First Saturday Arts Market and the Market at Sawyer Yards. Find him at ArtValet.com for additional highlights and artist's stories.