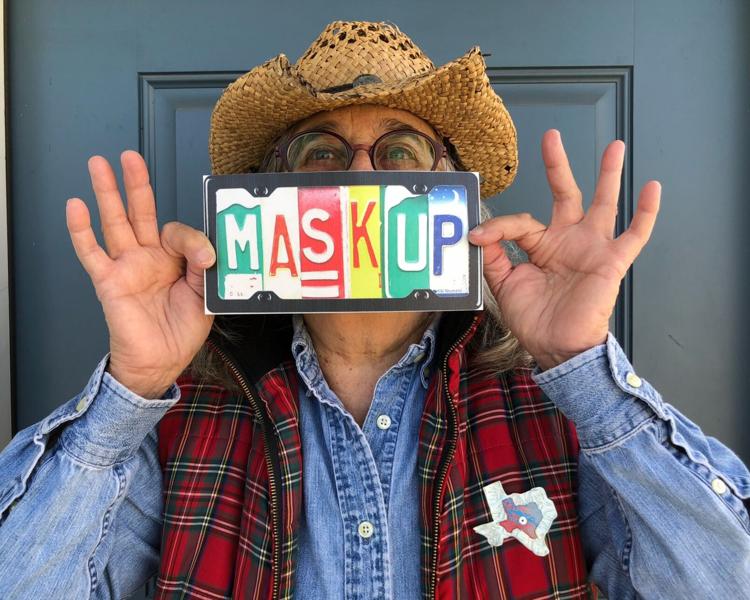 The name Kiki Neumann has appeared in this column many times. Neumann, a longtime Heights resident and self-described folk artist, has a knack for turning abandoned items into art.
Her most recent, and arguably most successful trash-to-treasure endeavor has been with recycling license plates. She cuts the letters and numbers up and arranges them into phrases and messages and then prints them out on greeting cards. Her license plate cards have been displayed for sale in Buc-ee's stores for several years.
Looking back at previous columns that included Neumann, I've already told the story about her being nicknamed the "media darling" for her many appearances in print, radio and TV. I've also relayed how she and I met, in her own words, referencing our first meeting some 17 years ago is worth repeating.
"Mitch found me selling birdhouses and garden items from cast-off wood fences on the curb of White Oak Boulevard," Neumann recalls. "I wasn't making very much money but it was a beautiful day in the Heights. He drove by and then came back to ask if I would consider being at your show. 'What? Where? You bet!' Because of you, I found my people! You took me off the streets quite literally."
That is one of my favorite stories, and Neumann is definitely one of my favorite people. In fact, I'd be willing to bet everyone that meets Neumann ranks her high on their list of favorites.
Regrettably, for most of 2020, I have only had the opportunity to catch Neumann on social media versus in person. She's still spreading good cheer, though. Even in a medium (social media) that has many running away, Neumann's humorous cartoons keep us all chuckling at the daily onslaught.
Recently, Neumann wrote to me telling me of a new fundraiser and awareness campaign she started, featuring her license plate art in the form of a sticker that reads, "MASKUP." Proceeds for the sale of the stickers go to the Houston Food Bank.
To get your sticker, donate to the Houston Food Bank through the fundraising page Neumann set up on Facebook and she'll mail you the sticker. There are details on the page about getting your address to her. The vinyl stickers are 4 inches by 8 inches in full glorious color.
If you can't find Neumann on Facebook, use this link to the fundraiser, https://tinyurl.com/maskuphoustonfoodbank. Neumann has a website, kikineumanncreations.com.
Cohen is an artist and founder of the First Saturday Arts Market and the Market at Sawyer Yards. Find him at ArtValet.com for additional highlights and artist's stories.