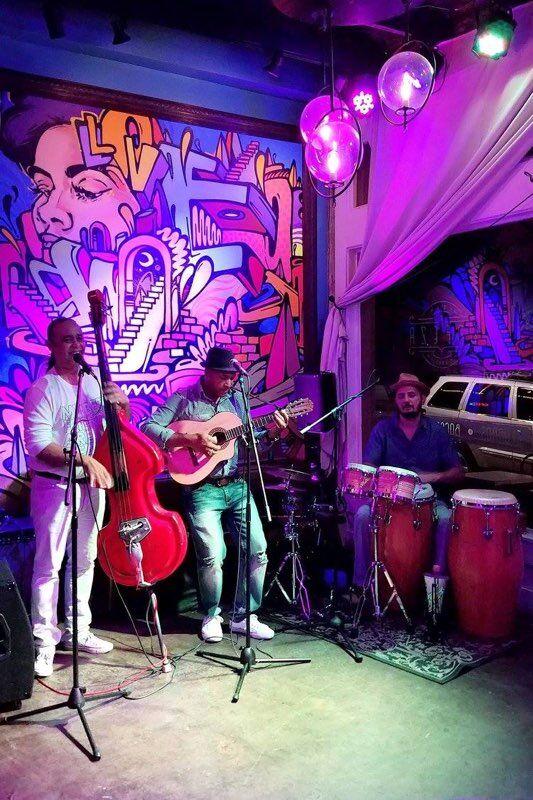 Saturday afternoon on the former Success Rice rail line, Arts District Houston and Cafeza present a new music series featuring the Cuban band La Tribu Cubana. The band will perform from 1-4 p.m. behind the Silos at Sawyer Yards, 1502 Sawyer St., on Artist Alley.
La Tribu Cubana is described as one of Houston's premier Cuban bands, delivering the traditional sounds and rhythms of Son Montuno from Santiago de Cuba as well as funky Havana/Miami-style salsa. In other words, you cannot help but dance, or in the least tap, hum or move when you hear their music.
Arts District Houston is dedicated to shaping and building Houston's creative economy in a responsible way that ensures the district retains top artistic talent and energy while continually enhancing the livability of the surrounding neighborhood.
Arts District Houston received support from Texas Commission on the Arts for a project that supports our vibrant arts community through a monthly outdoor music series featuring local artists. Arts District Houston will host the series in partnership with the Market at Sawyer Yards, Second Saturday at Sawyer Yards and Cafeza. The Sawyer Yards complex houses 400-plus artist studios and hosts monthly second Saturday events and artisan markets. The walkable complex is located adjacent to restaurants, shops and a new craft brewery.
This music series will provide a unique opportunity for artists to be paid to perform during a time of social distancing. We know through our surveys of performing artists that 68.8 percent of them have lost 51 percent or more of their income and 30 percent have lost 100 percent of their income.
Project goals are twofold: To put money in the hands of performing artists who have been negatively affected by the pandemic-induced economic downturn and help them grow their audiences for the future; and to bring greater attention to the artists and businesses within the district like Second Saturday at Sawyer Yards, the Market at Sawyer Yards and jazz night at Cafeza, which all provide vital income for artists.
Cafeza, located at 1720 Houston Ave., opened in 2015. I love the description on the cafe's website. It's true. I've been there.
"Imagine yourself sipping a cup of artisan coffee, enjoying homemade churros y chocolate, and sampling an assortment of tapas or street-style tacos, as a steady flow of easy rhythms and the pleasant buzz of laughter and conversation floats above and around you. That's Cafeza."
To find La Tribu Cubana on Saturday, navigate to 1502 Sawyer St. There is ample parking around the complex, but I suggest driving down Winter Street and parking on the Success Rice side of the silos. The Sawyer side reads Mahatma. Follow the alleyway to the train shed. You'll hear them.
The surrounding buildings house the art studios, which will all be open Saturday from noon-5 p.m. Get details on the studios at SawyerYards.com. For downloadable maps in Arts District Houston, visit artsdistricthouston.com.
Santa Claus will be available for photos, too. Find Santa and his photographer on the east side of the train shed. Sorry, no pets.
Apparently, Santa loved Cuban music!
Cohen is an artist and founder of the First Saturday Arts Market and the Market at Sawyer Yards. Find him at ArtValet.com for additional highlights and artist's stories.