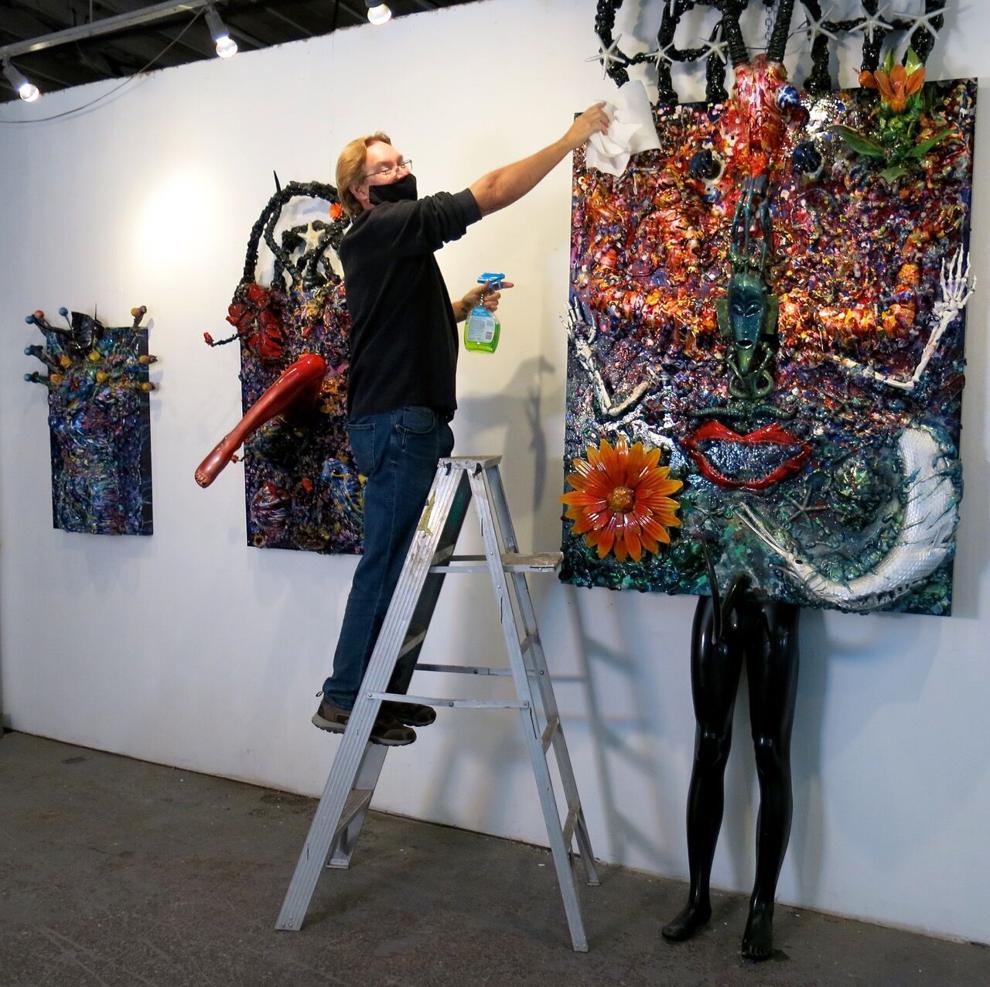 The 28th Annual Artist's Warehouse Artcrawl returns this Saturday, Nov. 21 from 10 a.m.-9 p.m., with 10 participating spaces spiraling out from the official epicenter of the event: Mother Dog Studios at 720 Walnut St.
In the nearly three decades since Mother Dog Studios introduced Houston to the "artist's warehouse district," with its annual Artcrawl, an explosion of artists, studios and events have appeared and filled our calendars.
Yet, the famous quote from the "Highlander" movie, "There can be only one!" always comes to mind when Artcrawl weekend approaches.
This year, for more reasons than just a pandemic, Artcrawl can once again claim sovereignty over the Houston art scene.
The Artcrawl grew from a modest start in 1992 to epic proportions and has returned to a manageable size, at least from this visitor's viewpoint.
As a young artist, I was thrilled at my first introduction to Artcrawl. It was still very new and I felt like I found "my people." Here were artists risking it all, in a part of the city that was overlooked by Houstonians, showing off where they lived and created.
"Urban pioneers" is the phrase used by Charlie Jean Sartwelle and John Runnels, co-directors of Mother Dog Studios.
Mother Dog Studios is the oldest surviving artists' studio warehouse space in Houston. It is a 22,000 square foot warehouse with 17 artist studios and an expansive exhibition space called the Mother Dog Museum of Modern Art.
The 10 participating spaces in this year's event all are very close to the original location requirements set forth by the founders. The very walkable boundaries are just north of downtown between San Jacinto Street, I-10 and Elysian Street (the easternmost boundary used to be McKee Street, I believe).
This year's participating artists' warehouses and business sponsors include Mother Dog Studios, Bisong Art Gallery, !DomVoli: Acrobatic & Circus Arts, Hardy & Nance Studios, m ARCHITECTS, Joseph's Farm 2 Marketplace, Black's Bodega, NDT Seals Inc., Reef Parking and The Houstoner Project.
Visitors to the official website (artcrawlhouston.com) will find links to the participating spaces, a printable map and some very interesting historical information about some of the spaces. For example, the building that is home to m ARCHITECTS, 1206 Nance St., was originally the Fifth Ward Hotel, built in 1883!
Note that CDC, state and city guidelines for COVID-19 will be followed by all participating buildings.
The participating locations are: Hardy & Nance Studios, 902 Hardy St.; Joseph's Farm 2 Marketplace, 805 Hardy St.; Mother Dog Studios, 720 Walnut St.; Bisong Art Gallery, 1305 Sterrett St.; Black's Bodega, 1401 Sterrett St.; !DomVoli: Acrobatic and Circus Arts, 1311 Sterrett St.; m ARCHITECTS, 1206 Nance St.; NDT Seals, 1333 Sterrett St.; Reef Parking, 1016 N. San Jacinto St.; and The Houstoner Project, 801 William St.
Cohen is an artist and founder of the First Saturday Arts Market and the Market at Sawyer Yards. Find him at ArtValet.com for additional highlights and artist's stories.