Roxanne Malkie was supposed to be back in Paso Robles, California, where she works for a winery.
She and her boyfriend had been vacationing in Costa Rica – where they got engaged – and were stuck in Houston for a night because a connecting flight got cancelled. So they ventured out to Harold's Restaurant, Bar & Rooftop Terrace, located at 350 W. 19th St. in the Heights, where they enjoyed a bite to eat, some drinks and live music on a Monday night in the taproom.
Malkie, who originally is from France, also got an unexpected taste of home. The singing and guitar-playing was part of Make Music Day, a free international music festival held annually on June 21, the summer solstice. The celebration started in 1982 in France, where it is known as Fete de la Musique.
When she found out about the connection, while sitting on a barstool next to her new fiancé, Malkie said, "That made my day."
"It's wonderful," she said. "It was my favorite day in France, because it was the longest day of the year. We would go out and drink too much and have fun."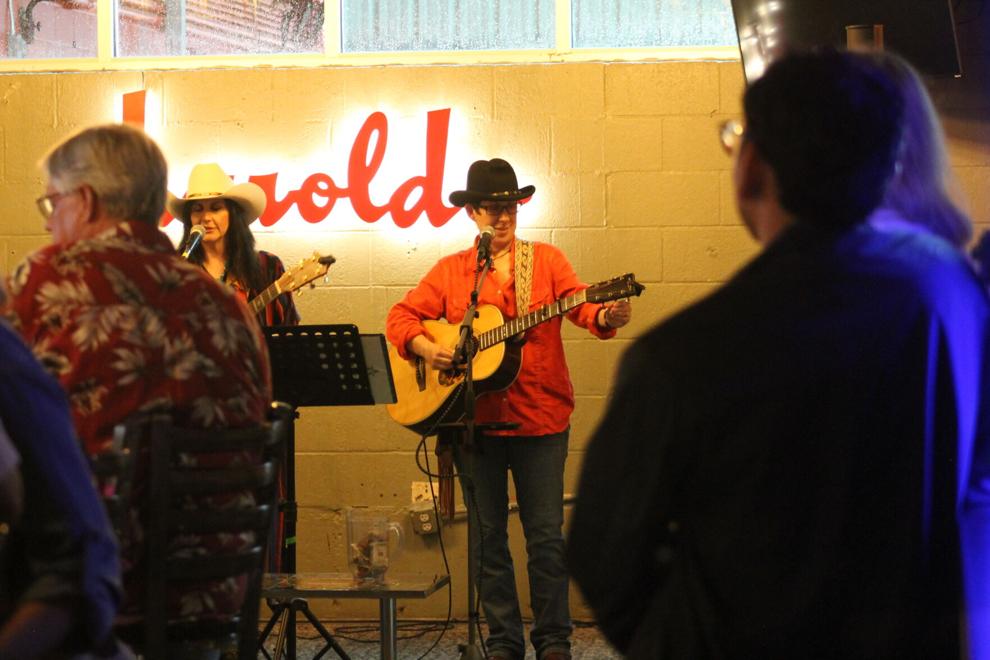 Lots of fun was had Monday at Harold's, which served as one of 20 host sites around Houston as the city participated in the music festival for the first time. It was held in more than 1,000 cities in a total of 120 countries.
A total of nine acts played from 10 a.m.-9 p.m. at Harold's, where owner Alli Jarrett said there was steady business throughout the day and night.
Local musician Ed Amash of Heights-based nonprofit Song Circle Houston recommended Harold's as a host venue to the Mayor's Office of Cultural Affairs, which coordinated the Houston events in conjunction with the National Association of Music Merchants and the Make Music Alliance.
Amash and other local musicians typically play at Harold's from 6:30-9:30 p.m. Tuesdays as part of a recurring event called Tuesday Tunes in the Taproom. Amash also was part of the festival lineup on Monday, along with acts such as Ted Miller, Wild Rabbit Salad, Ken Gaines with Wayne Wilkerson and Amelia Earhart Returns.
"To be a part of it is really cool," Jarrett said. "We're honored to have these fantastic artists playing at Harold's."
Miller, who was the first act in the morning and stayed at Harold's throughout the day, described the crowds for most of the performers as "small but appreciative," while some packed the place.
Alexis Andres, the Consul General of France in Houston, ended the day at Harold's and spoke about the festival and its history to those in attendance. He said Houston was sought after as a festival host city because of its diversity, musical talent and penchant for live performances.
Necole Irvin, the director of the Mayor's Office of Cultural Affairs, also stopped by Harold's near the end of the night and thanked Song Circle Houston for supporting the event at the 19th Street staple. Irvin said the city as a whole was excited to take part in Make Music Day, and she already was thinking of ways to expand it in 2022.
"I would love – I'm not sure if the police chief would necessarily love – but I would love to see music in the streets and in the parks," Irvin said. "Think about it, look at it, consider your neighborhood park and make music there. It doesn't have to be on Make Music Day. It could be any day."